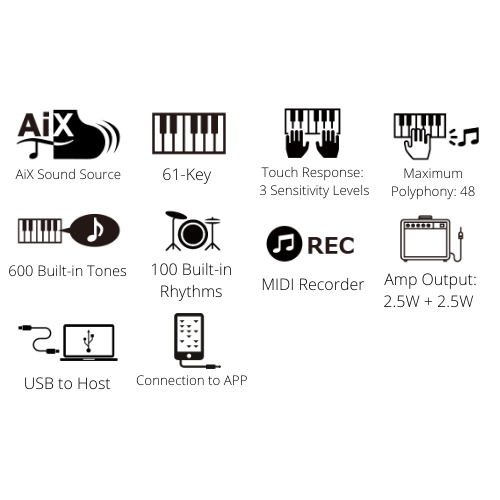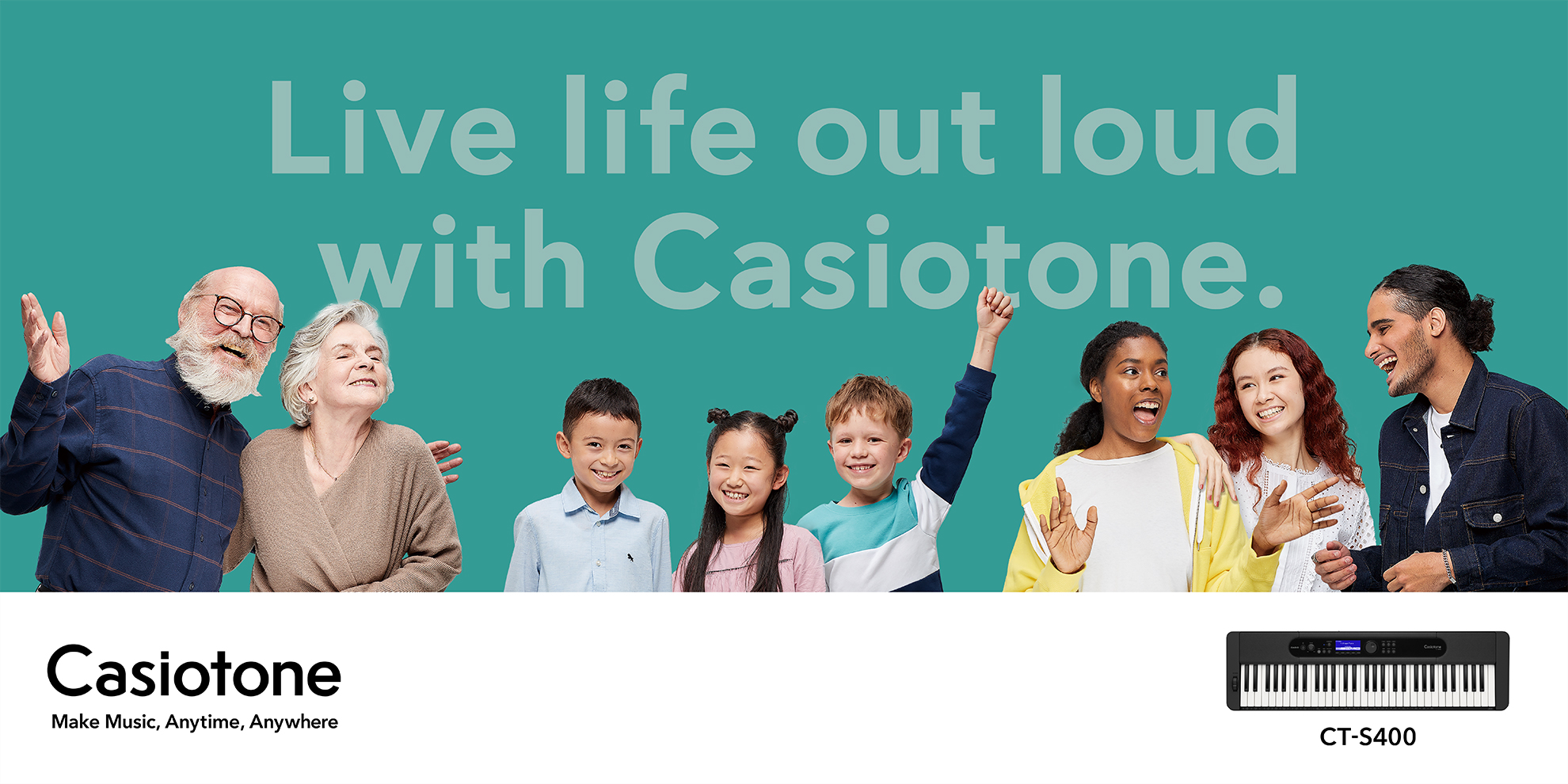 Whether you're making music just for you, or to bring joy to others, your creativity will flourish with the CT-S400. If you're sparking a new passion for music, or reigniting an old flame – this keyboard is the perfect home for all. This little firecracker packs immense power into a compact package, offering versatile tones, rich audio, and limitless possibilities for fun. Indulge in the feeling of making music anywhere and with anyone. The CT-S400 will bring endless delight and inspiration to your world.
Unleash your passion with the Casiotone CT-S400.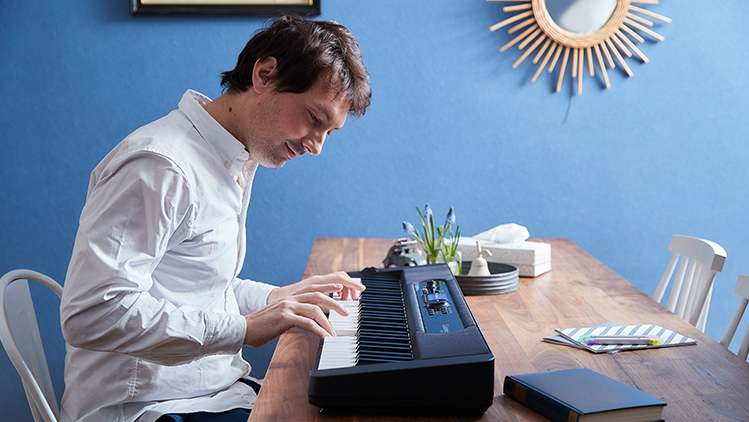 Lifelike Sound.Always with You
Connect deeply with the true essence of sound. Vivid and clear piano tones are just the tip of the iceberg. Rejoice in the vivid tones of the AiX Sound Source and delight in expressive, high-resolution voices as they shine through Casio's new and unique acoustic system, ensuring you experience a fresh, powerful sound that will never fail to enhance your creativity.
Who would have thought that such a compact design could produce this level of luscious timbre and true-to-life sound? Experience music in your way in the comfort of your room.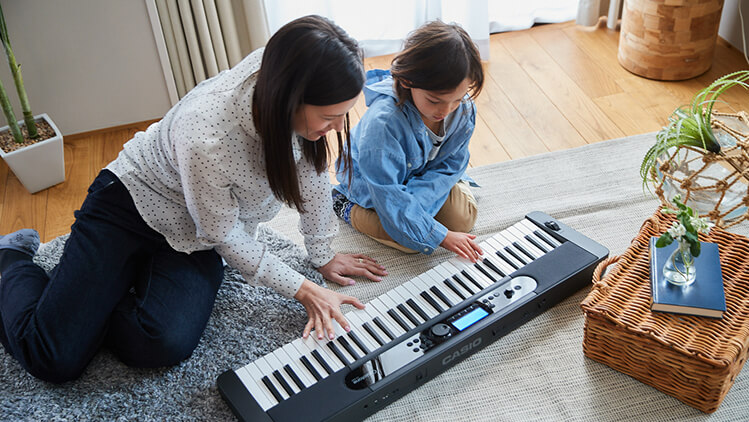 Your Keys to Creativity
The CT-S400 – more than your average keyboard. It's your companion for learning, exploration and creativity. Enjoy the flexibility of switching up your playing as you improve. The keyboard evolves along with your style. Practice and play along with your favorite music or automatic accompaniment. Connect with an app or external device. Your experience is limited only by your imagination. With everything for everyone, it doesn't matter what level you're at – the CT-S400 will unlock a new creative you.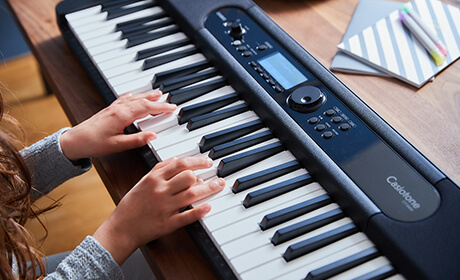 Sounds to Inspire Your Playing
Redefining what makes a 'real' instrument, the CT-S400's AiX Sound Source technology interprets the expressive complexity of musical instruments. With a rainbow of sounds to choose from, you never need to stop playing. Piano, strings, brass, synthesizer, bass and drums – 600 tones mean you are no longer restricted to one genre and the world of music is yours to explore.
Which one will inspire you today?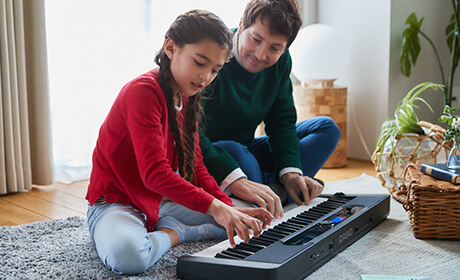 The Sound of a Great Time
Despite the CT-S400's compact size, Horizontal Bass Reflex technology boosts the lows and, together with custom speakers, brings powerful and vivid sounds to life. Add the surround sound function and truly experience the vibration and power of pure music. Let the Volume-Sync EQ function take control as it automatically adjusts the balance between bass and treble, maintaining a punchy, vibrant sound, even at lower volumes. Touch the pleasure of sound and experience rich audio from the comfort of your home.
Now, that's music to our ears.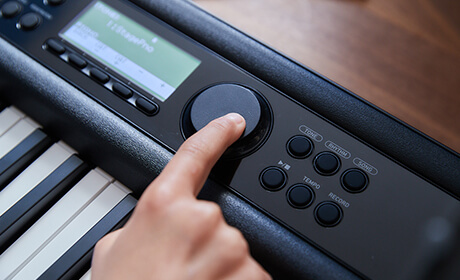 Get Right to the Good Stuff
With only the essential buttons on the CT-S400's console panel, and a large dial to select tones and change settings via the LCD screen, the familiar keyboard layout ensures an intuitive experience. Maximize inspiration with My Setup. Program in a range of functions to suit your needs. Assign your favorite settings to each of the 5 buttons underneath the LCD screen and easily access them again with a single touch as soon as you're ready. Customize the CT-S400, and make your music about you.

Learn More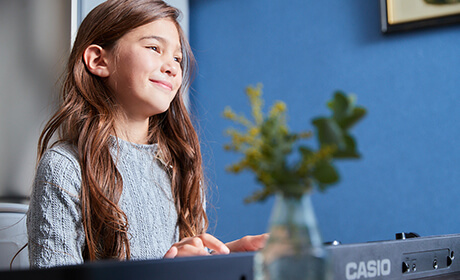 You Play the Keys, Casiotone Brings the Band
The CT-S400 brings the ensemble to you. With 200 rhythmic patterns from a vast range of genres, you can play along to any of your favorite tunes. Replicate the exhilaration of playing alongside other musicians using the automatic backing function with any of the 160 built-in songs. Customize settings and make the performance your own by changing the tempo and selecting left-hand or right-hand parts to play along with and individually practice.
Maintain your enjoyment – it's all about stress-free practice at your own pace.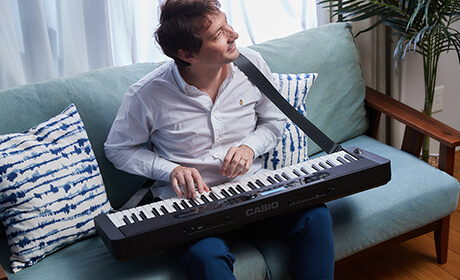 A Musical Partner That Is Always Close at Hand
Powerful meets compact. The CT-S400's slim design means it's easy to move and set up anywhere. Make music in any location, with or without a stand or desk. Ideal – even when space is limited – thanks to the handy strap pins. The CT-S400 will always be by your side and ready to play.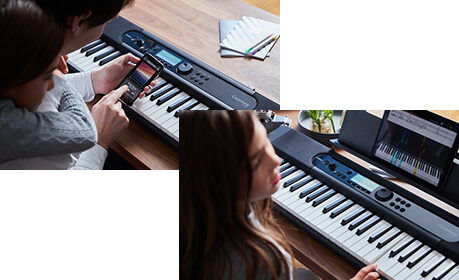 Smart, Creative, and Connected to Your World
The CT-S400 offers countless ways to enjoy the thrill of music. Listen to the music from your smartphone or tablet through the powerful keyboard speakers by using the Wireless MIDI & Audio Adaptor WU-BT10*. Access the score of each built-in song with the Chordana Play app. Customize melodies in Audio Mode by changing the key and tempo, or by using the 'cancel melody' and 'cancel accompaniment' buttons to turn your favorite music into a backing track, allowing you to play along. Use the MIDI capability in Lesson Mode to display piano roll, making practice fun! Connect to other MIDI-enabled apps and external devices to individualize your lessons – throw away your old notions of practice, get creative and have fun.
* sold separately
More Features
Touch Response – add intensity and rich expression to each note you play
Layer Function – expand your performance range by layering two tones
Split Function – divide the keyboard to play different tones
Metronome – keep time in practice and performance
Registration – save up to 32 sets (8 banks of 4 settings each), such as tone and rhythm
MIDI Recorder – record your performances and play them back
Pitch Bend Wheel – allow manual variations in pitch, giving your performance more flair and emotion
Phones/output jack – tuck yourself away from the world around you as you play
Specifications
Keyboard
Number of Keys: 61
Touch Response: 3 sensitivity levels, off
Sound Source
AiX
Polyphony: 48
Tones
600
Layer
3 (Upper1/2, Lower1)
Split
Yes
Sustain
Yes
Effects
Reverb: 20
Chorus: 10 (+Preset for each tone)
DSP: Yes (Preset for each tone)
Master EQ: 10
Volume-Sync EQ
Yes
Surround
Yes
Accompaniment
Number of Rhythms: 200
One Touch Preset: 200
Auto Harmonize: 12
User Rhythms: 10
Chord Mode: CASIO Chord, Fingered 1, Fingered 2, Fingered On Bass, Fingered Assist, Full Range
Rhythm Elements: Intro, Normal, Normal-Fill, Variation, Variation-Fill, Ending, Synchro Start, Synchro Stop
Metoronome
Yes
Tap Tempo: Yes
Arpeggiator
100
Songs
160
Lesson Part Select: Yes
User Songs: 10
Demo Song: 1
Registration
4 set x 8 bank
Freeze Function: Yes
My Set Up Function
Yes
Transpose
-12 to 0 to +12 Semitones
Tuning
A4 = 415.5 Hz to 440.0 Hz to 465.9 Hz
Octave Shift
-3 to 0 to +3 Octaves
Scale Setting
Equal temperament + 16 variations
MIDI Recorder
Yes
Songs: 5
Tracks: 6 (1 system track, 5 solo tracks)
Memory Capacity: 40,000 notes (for each song)
General MIDI
Yes
Connection to Bluetooth®
Bluetooth® MIDI/Audio: Yes (with optional adaptor)
Connection to App
Supported App: Chordana Play
Terminals
PHONES / OUTPUT: Stereo mini
PEDAL: Standard
AUDIO IN: Stereo mini
USB TO HOST: micro B
USB TO DEVICE: Yes
LCD
Yes
Type: Full-dot
Back Light: Yes (white)
Pitch Bend Wheel
Yes
Strap Pin
Yes
Speakers
(13cm x 6cm) x 2
Horizontal Bass Reflex: Yes
Amplifiers
2.5W + 2.5W
Power Supply
AC Adaptor: AD-E95100L (DC 9.5V)
Battery: AA-size alkaline batteries x 6 or AA-size rechargeable nickel metal hydride batteries* x 6
Battery Life: Approximately 4 hours continuous operation

Actual continuous operation time may be shorter due to battery type, performance type, and usage environment.
* Measured values while using eneloop batteries. eneloop is a trademark of Panasonic Corporation.
Power Consumption
7.5 W
Dimensions
930x258x84(mm)
Weight
4.5kg
Included Accessories
Music stand, Strap lock
Optional Accessories (sold separately)
Pedals (SP-3, SP-20), Headphones (CP-16), AC adaptor (AD-E95100L), Wireless MIDI & Audio Adaptor (WU-BT10), Special Stand (CS-2X), Benches (CB-7, CB-30BK, CB-30BN), Carrying Case (SC-650B)
EAN code
4971850315100
Input/Output Terminals

Click here for a list of the supported operating systems for the USB (TO HOST) feature.
Built-in Songs
PIANO/CLASSICS

FÜR ELISE
LA PRIÈRE D'UNE VIERGE
VALSE op.64 no.1 "PETIT CHIEN"
TURKISH MARCH (MOZART)
TRÄUMEREI
ETUDE op.10 no.3 "CHANSON DE L'ADIEU"
LIEBESTRÄUME no.3
NOCTURNE op.9 no.2 (CHOPIN)
CANON (PACHELBEL)
JE TE VEUX
MARY HAD A LITTLE LAMB
LE CYGNE FROM "LE CARNAVAL DES ANIMAUX"
SONATA op.13 "PATHÉTIQUE" 2nd Mov.
HEIDENRÖSLEIN
AIR FROM "SUITE no.3"
SPRING FROM "THE FOUR SEASONS"
HABANERA FROM "CARMEN"
BRINDISI FROM "LA TRAVIATA"
HUNGARIAN DANCES no.5
MINUET IN G MAJOR
MUSETTE IN D MAJOR
ECOSSAISE IN G MAJOR
GAVOTTE (GOSSEC)
ARABESQUE (BURGMÜLLER)
CHOPSTICKS
DECK THE HALL
ODE TO JOY
AVE MARIA (GOUNOD)
SONATINA op.36 no.1 1st Mov.
PRELUDE op.28 no.7 (CHOPIN)
RÊVERIE
GYMNOPÉDIES no.1
GOING HOME FROM "FROM THE NEW WORLD"
BRIDAL MARCH FROM "LOHENGRIN"
SONATA op.27 no.2 "MOONLIGHT" 1st Mov.
THE ENTERTAINER
WEDDING MARCH FROM "MIDSUMMER NIGHT'S DREAMT"
AMERICAN PATROL
FRÖHLICHER LANDMANN
LA VIOLETTE
SPINNERLIED
LA CHEVALERESQUE
SONATINE op.20 no.1 1st Mov.
SONATA K.545 1st Mov.
GAVOTTE FROM "FRANZÖSISCHE SUITE ?"
JESUS BLEIBET MEINE FREUDE
SERENADE FROM "EINE KLEINE NACHTMUSIK"
MARCH FROM "THE NUTCRACKER"
CHANSON DU TOREADOR FROM "CARMEN"
LARGO (HÄNDEL?
INNOCENCE
PROMENADE FROM "TABLEAUX D'UNE EXPOSITION"
INVENTIONEN no.1
PRAELUDIUM no.1 (J.S.BACH)
DOLLY'S DREAMING AND AWAKENING
LA FILLE AUX CHEVEUX DE LIN
HUMORESKE (DVOŘÁK)
ARABESQUE no.1 (DEBUSSY)
MAPLE LEAF RAG
MELODY IN

EVENTS
SILENT NIGHT
JINGLE BELLS
WE WISH YOU A MERRY CHRISTMASJOY TO THE WORLD
O CHRISTMAS TREE
WORLD
WHEN THE SAINTS GO MARCHING IN
GREENSLEEVES
ANNIE LAURIE
HOME ON THE RANGE
AMAZING GRACE
LONG LONG AGO
TWINKLE TWINKLE LITTLE STAR
GRANDFATHER'S CLOCK
SANTA LUCIA
TROIKA
LIGHTLY ROW
ON TOP OF OLD SMOKEY
AULD LANG SYNE
COME BIRDS
DID YOU EVER SEE A LASSIE?
MICHAEL ROW THE BOAT ASHORE
DANNY BOY
MY BONNIE
HOME SWEET HOME
AURA LEE
ALOHA OE
JOSHUA FOUGHT THE BATTLE OF JERICHO
THE MUFFIN MAN
LONDON BRIDGE
UNDER THE SPREADING CHESTNUT TREE
SIPPIN' CIDER THROUGH A STRAW
BEAUTIFUL DREAMER
IF YOU'RE HAPPY AND YOU KNOW IT, CLAP YOUR HANDS
MY DARLING CLEMENTINE
LITTLE BROWN JUG
HOUSE OF THE RISING SUN
SHE WORE A YELLOW RIBBON
YANKEE DOODLE
MY OLD KENTUCKY HOME
SZLA DZIEWECZKA
WALTZING MATILDA
ON THE BRIDGE OF AVIGNON
I'VE BEEN WORKING ON THE RAILROAD
OH! SUSANNA
CAMPTOWN RACES
JEANNIE WITH THE LIGHT BROWN HAIR
TURKEY IN THE STRAW
JAMAICA FAREWELL
FURUSATO
SAKURA SAKURA
EXERCISE*
* A collection of songs for finger training. They may also provide some mental stimulation.
The level of mental stimulation depends on the individual.
This product is not a medical device.